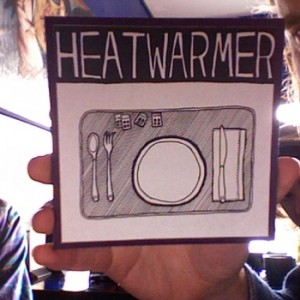 Heatwarmer – self-titled
(2009, self-released)
(Purchase or stream at Bandcamp)
Heatwarmer (heard on Ball of Wax volumes 9 and 14), fronted by the intimidatingly skilled Luke Bergman, is a very odd band, and I mean that in the best of ways. There is no question that their music – idiosyncratic, dense, involved, through-composed – is the product of a serious amount of music schooling. It's also possessed of a wonderful sense of fun and humor, both lyrically and musically, with the final result sounding something like Steely Dan filtered through The Muppets (Steely Dan and the Muppets being two of my very favorite things, so I mean no disrespect with this comparison). In fact, when Luke first sent me "We've Got the Beat" for consideration for Ball of Wax, I wrote "Now why am I imagining this song in a deleted scene from The Muppet Movie?" and he replied "Haha. You nailed it man, I can't believe that. The Muppet Movie was like the biggest inspiration for this song." Any band that takes inspiration from the works of Jim Henson is a band I can get behind.
Heatwarmer – We've Got the Beat
Of course this album will not be for everyone. Heatwarmer's music is not predictable, it's not always pretty, it stops and starts in weird places and switches time signatures and keys with aplomb. But the level of artistry on display here is incredibly high, and Bergman's vision (this album was written and recorded by him, with help from friends on various instruments) is perfectly executed. The instrumentation is full and expressive: there are myriad textures, both rhythmic and sonic, weaving in and out of each other, from synthesizers and dance beats to hand drums to rock guitars and drum kit to finger-picked acoustic guitar. On top of his instrumental prowess, Bergman is possessed of a mightily impressive voice, which he pushes to its limit with soaring, keening melodies and lush multi-tracked harmonies. If some of the simpler, acoustic-based music I love could be compared to a Monet – warm, lush, and inviting – then the music of Heatwarmer is perhaps a Rauschenberg – daring, unconcerned with boundaries, and perfectly bound by its own internal logic. Both are equally deserving of space in a museum and time in your brain.
Heatwarmer's self-titled CD was one of the few physical albums I actually bought last year, and it was seeing the band live (at the 2010 Hollow Earth Magma Festival, in fact) that sold me. Bergman has fielded an impressive live ensemble to carry out his musical vision, and they always put on a show well worth watching. They are playing this Saturday , February 26th, at The Vera Project (rounded out by a real live horn section, dubbed "The Seattle Sax Murderers") with Northwest institutions Baby Gramps and Arrington De Dionyso in what is bound to be an unforgettable night of musical eccentricity. Don't miss it!