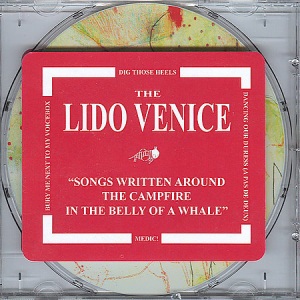 The Lido Venice – Songs Written around the Campfire in the Belly of a Whale (EP – 2004 ECA Records)

[Note: this review is part of the Bad at Listening series.]
At that same previously-written-about Missoula show, the Lido Venice played after me and before TIAPOASL. Digging out my tour diary from the time (which I thought I burned . . . damn you archive.org), I can check my barely-remembered recollections against partially-remembered ones: this band was from Boston, they were young kids (16-19 years old) on tour for not the first time, and they exuded the confidence of somewhat older kids who had done this kind of thing for years. I spent some time talking to Sam the bassist and found him exceptionally sober for a 16 year-old on tour in a rock band.
I remember the band being all screamy hardcore when they played, but this 4-song EP says otherwise . . . either my memory's off or their set diverged from this track list. The EP is melodic post-punk with (I suspect) some jazz influence and a bit of emo around the edges, with one semi-acoustic song — "Dancing Our Duress (a Pas De Deux)" — and nothing particularly screamy. The melodies and the recordings are great, there are some good hooks and the guitar work is inventive — particularly on "Medic!," where two guitars panned hard left and right do nice things into one's headphones. The lyrics are abstract poetry, a bit more intellectual than you might expect in pop songs, and hard to follow. I found the words written out online and still can't decode what's going on there.
Overall the EP shows great promise for the full-length that might have followed, but didn't. Apparently the Lido Venice have been inactive since perhaps 2006, so it's fair to say they're of the past. They still have a myspace page up though, where you can listen to "Dancing Our Duress." Ben Potrykus (guitar) is now in the band Girlfriends. Sam Potrykus (bass) appears to run a Boston area music blog and newsletter. I can't quite figure out what the rest of them are doing musically, if anything.
As I'm sure we'll see a lot in this series, that's how it goes with bands.