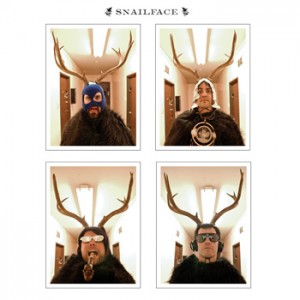 As today is the last day of February, which for several years now has been RPM Challenge month around the world, I thought I would pay tribute to a band that sprouted out of an RPM Challenge and has so far created two essential (and free!) album-length works of genius. I'm talking, of course, about Snailface.
The basic premise behind the RPM (Record Production Month) challenge is to record an album in a month – the shortest month of the year, no less. That's not really enough of a challenge for some, though, who prefer to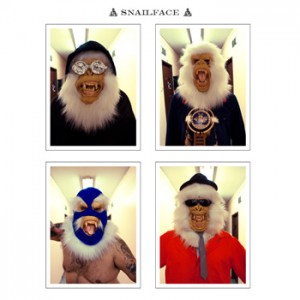 write and record an album in those four weeks. Snailface was born from such a challenge, as in the winters of 2009 and 2010 members of Kowloon Walled City (and probably other Bay Area heavy-type bands) crafted two full-length albums of artfully hilarious riff-heavy psychedelic stoner rock, both posted for 100% free download on the internet (and available in a limited edition two-cassette box set packaged in real fake yeti fur for the true believer).
I could write on and on about the layers of musical and lyrical brilliance, the pristine production, THE FUCKING YETI FOR CRYING OUT LOUD, but goddamnit, they're free, so just go and download them and hear for yourself.