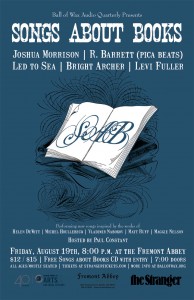 Three weeks from today we will celebrate the release of Ball of Wax 25: Songs about Books with a very special concert at the Fremont Abbey (have you gotten your tickets yet?). We've been talking about this project for a very long time now, but up until now we've been keeping a tight lid on the actual music involved (although you might have heard a song or two on KEXP recently – thanks guys!).
For those of you who'd like to know just what you're getting into, I have uploaded one track from each of the artists involved onto Ball of Wax's brand new Bandcamp page. We've also set up pre-orders so if you won't be able to make it to the show you can lock in your purchase of the Songs about Books CD now and make sure you get a copy before they all disappear forever. The CD starts at just $5 plus postage, but if you want to pay more we won't say no.
Take a listen to one track each from Led to Sea, R. Barrett, Bright Archer, Joshua Morrison, and me right here:
[wp_bandcamp_player type="album" id="2917160288″ size="grande" bg_color="#FFFFFF" link_color="#4285BB"]
See you on August 19th at the Fremont Abbey!