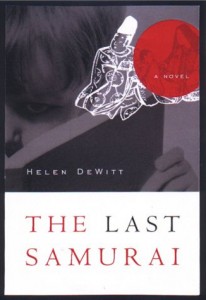 Paul assigned Helen DeWitt's The Last Samurai to Joshua Morrison. I just finished reading it, and this reading completes my project of reading all of the books assigned for Songs about Books. First I'd like to say that I am really thrilled with the books Paul selected. They are completely different from each other, each brilliant in its own way, and all eminently readable (not a one took me more than a few days to get through) – and, I wager, rereadable. It's clear he took a lot of care coming up with these selections and matching them to their songwriters, and I couldn't be more pleased with how it all turned out. Thank you Paul!
Now, on to the book.
Here's the thing: This is a book about an unbelievably precocious/brilliant boy – he is five at the beginning of the book, and at the end he's eleven. He knows more languages than anyone you've ever heard of, has read most of the classics before his sixth birthday, can do college-level math and hold conversations with brilliant adults, etc., etc. You've read this book before, you think, and I don't blame you for thinking that. But trust me, you haven't. DeWitt takes this potentially cliched starting point and turns it into a full, stirring, unique work of art.
The Last Samurai is about so much more than a genius kid: it's about art, and music, and talent, and inspiration, and depression, and settling, and not settling – and it is, at times, quite unsettling. It is a novel with one overarching – and very affecting – story, and nestled throughout it are smaller stories which both add to the larger story and are wonderful reads in and of themselves. Here's Josh's take on one such vignette:
[wp_bandcamp_player type="track" id="3539220968″ size="grande" bg_color="#FFFFFF" link_color="#4285BB"]
The Last Samurai is – along with the other books assigned, as mentioned above – a book that is artfully and uniquely constructed and that totally sucks you in and pulls you along. It's not just a bunch of gorgeous writing for the sake of gorgeous writing – and there's nothing wrong with that kind of book, I do enjoy such books from time to time – but a gorgeously written book that tells a story and creates a set of characters you care about and want to know more about. I'm really glad Paul brought it to my attention, and very much looking forward to reading more from Ms. DeWitt whenever it should be brought out into the light of day.
Get your tickets now, and join us at the Fremont Abbey on August 19th to hear all of the Songs about Books and get a copy of the CD.