Last week we celebrated the release of Ball of Wax Volume 27 at the Sunset Tavern. As always, it was a beautiful night of music. Also as always, I was too caught up in making CDs and coordinating things to do much in the way of documentation. Fortunately my friend Scott Bilstad was in attendance with his sketch pad, so I thought I'd do a little writeup and use his drawings to help give you a feel for the evening.
First up was Kevin Barrans and Friends, which in this instance was a group of his shape note singing comrades. Kevin's song on the new Ball of Wax is an original shape note song, and the group sang that and several others for us without the aid of instrumentation (if you want to know more about shape note singing and what it is, check out fasola.org). It's a rare enough experience to witness a live performance of this kind of singing, never mind at a rock club in Ballard. The audience was completely transfixed by this group of six and the deep harmony with which they sang; I couldn't imagine a better way to set the mood for the evening. Scott didn't draw this group at all, I assume because he was too captivated to put pencil to paper.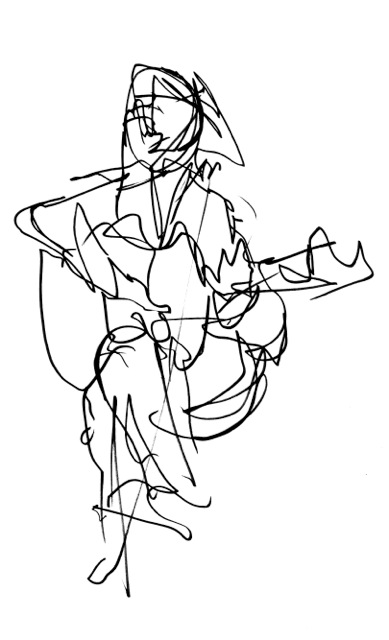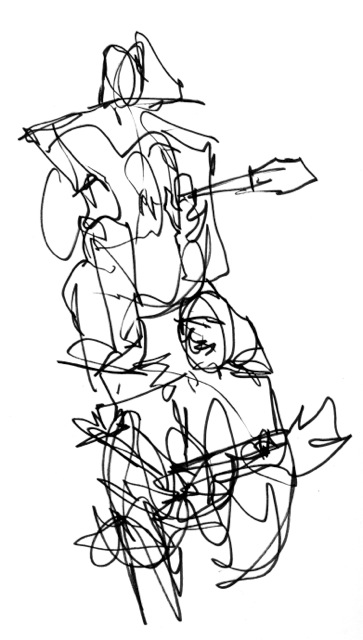 Next up was Alicia Amiri. You might know Alicia from her blistering post-grunge outfit Lovesick Empire, or the moody yet propulsive electronica of Nightmare Fortress, but for this performance she just sat on the stage with her classical guitar and picked and belted a handful of beautiful, searingly personal (yet achingly universal) songs, including "Idiot Dog," featured on BoW 27. Alicia is a local treasure and plays out all too rarely; jump on any chance you have to see her play.
Next the stage was graced by oh lo lo, a band I've already written plenty about here. Drummer Mike Bundy was out of town, so they came up with a custom drum-kitless set just for the occasion. John Faryar was front and center on acoustic guitar and vocals, flanked by Andre Bearfield on keys, bass, and vocals and Kelli Hanson mostly on floor tom and vocals. Their set was rich and full and smile-inducing (as you might guess from "Laundromat," the lead track on BoW 27); if they can pull off a performance like that on 3/4 strength, I'm a little afraid to see them at full power.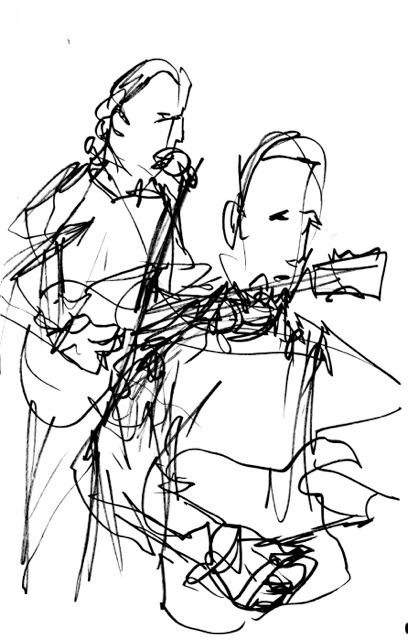 Sun Tunnels (formerly The Graze, always Louis O'Callaghan) was next, finally turning up the volume and bringing the rock a bit with Louis on electric guitar and Sam Jansons on drums. I've seen Louis and Sam play together many times, but somehow Louis's always excellent songs (I decided recently that Louis is the bastard child of Kurt Cobain and Jeff Mangum; do with that what you will) had a new energy and drive that was pretty great to witness. I think the new moniker has inspired a bit of a psychedelic/noisy direction in Louis's music, which I'm all for. Give the man a delay pedal, and maybe a bass player, and stand back. (You don't necessarily hear that side on the BoW 27 version of "All Kinds," but it's a great song anyway.)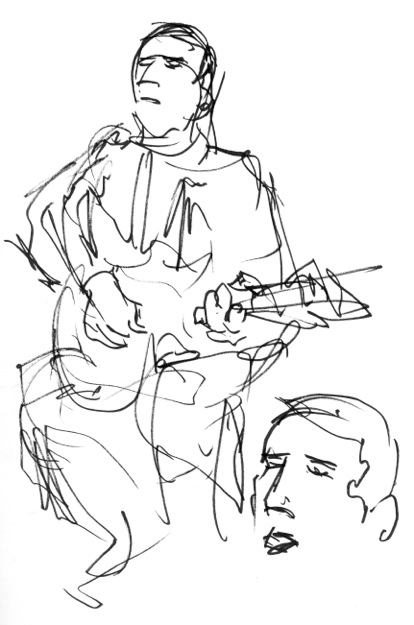 As Sun Tunnels finished up, Christopher Hydinger and Bobby Wane began to set up for their set as The Music of Grayface, the final performance of the evening. Christopher set up on stage in the traditional fashion. Meanwhile, Bobby started carting amps and pedals out to the middle of the club, behind where the audience was standing. Their set was, I think, composed of two songs woven together (including "Silentcanoes," their BoW 27 offering, which you'll have to buy the CD – or, OK, go to their Myspace page – to hear). I stood facing the northern wall of the Sunset, so I had Christopher playing his acoustic guitar sparely through an amp and projecting his formidable voice through the PA in my left ear, and the droning swirl of Bobby Wane's guitarscapes in my right. It was a breathtaking moment (yes, one musical moment, frozen and hammered out to a length of 20 minutes or so) and absolutely the perfect way to close the evening. If you missed it you missed it, but I do hope you'll pick up the Ball of Wax 27 CD. Perhaps a little bit of the magic of that night will come through in the mail with the disc.
[wp_bandcamp_player type="album" id="2186026906″ size="grande" bg_color="#FFFFFF" link_color="#4285BB"]