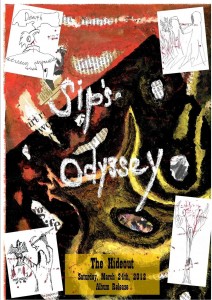 Sip's Odyssey first came onto my radar about a year ago, when they submitted the song "Devils in the Details" for Ball of Wax Volume 23. It was low-fi and weird, and seemed to have a thrift store's worth of discarded instruments layered throughout it, along with some truly bizarre, Muppet-like screaming. Of course I loved it.
[wp_bandcamp_player type="track" id="920165048″ size="grande" bg_color="#FFFFFF" link_color="#4285BB"]
After a bracing performance at the Ball of Wax 23 release show, they turned right around and gave me the slightly menacing divebomb known as "Terrible" for Volume 24. I was starting to get used to these guys, and hoping they'd keep sending me their slightly unhinged tracks for the foreseeable future.
Alas, it is not to be. This month Sip's Odyssey is releasing a new album (and some t-shirts) and playing two shows and then, according to them, they will "become a fond memory." Here are the details on those shows. You should probably go to both in order to get enough Sip's Odyssey in your system to last forever (which, as a great man once said, is "a mighty long time"). I hope to see you there!
Saturday, March 24th – The Hideout – Album / Merch Release – 8pm – FREE!!
Saturday, March 31st– The Black Lodge – 6pm – sliding scale cover
Hollow Earth Radio's Magma Festival Finale show w/Jan Terri, Don't Talk To The Cops, Slowdance, Wimps, Neighbors, Jamey Braden, Nod & The Hobgoblins