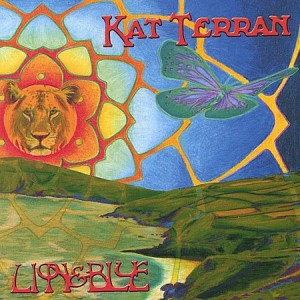 Kat Terran – Lion & Blue
(2002, Little Roar Records)
I acquired this CD in Neenah, Wisconsin after playing with Southerly, and with Kat Terran's band Snowdrift. Snowdrift — who are from Seattle — didn't have much recorded at the time, but they had some of these, so a trade was effected.
This album is great, and I feel dumb that I didn't even take the wrapper off until recently. I judged it by its cover, which to me looks a bit like psychedelic folk art from the '70s . . . not entirely unlike a Cloud Cult album cover, but with more Middle-Earth runic-looking type, the sort of thing I'd seen too many times color-ink-jet printed and mailed to me when I used to run acoustic folk concerts. I also expected it to be a lo-fi solo singer-songwriter solo effort, which is the sort of thing I generally like, but for whichever reason (the cover, my trademark laziness, etc) I wasn't inspired to open it up.
Well I was wrong on all counts. This is a tightly-arranged and very hi-fi album (produced by Portland's Rob Bartleson, who appears a lot in this series), featuring some truly badass drumming, intricate folk-guitar, cello, and Kat Terran's vaguely Celtic-sounding vocals on top of a very strong set of her songs. Her husband Derek is a talented multi-instrumentalist, and he played on and arranged a lot of the record.
The songs here mostly fall into a dark modal/Eastern folk type of sound, though with standard trap kit percussion. One song, "Dolls," is straight up rock, but again very dark, reminiscent of mid '90s alternative, with Tori Amos probably the laziest recommended-if-you-like comparison.
Lyrically, Kat describes images, moments in time, all imbued with a sort of fuzzy tragic import. "Three Friends" is an example. A seemingly optimistic road trip to the city becomes wistful, melancholy music:
So, judging books or albums by their cover — not recommended. While Kat Terran as a solo project hasn't released music since Lion & Blue, she has music out with and is still active in Snowdrift.