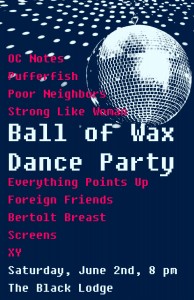 Details first. Here's what we have cooked up for you:
Ball of Wax Dance Party
(Vol. 28 CD Release)
Saturday, June 2nd, 8pm
The Black Lodge
w/OC Notes, Pufferfish, Poor Neighbors, Everything Points Up, Strong Like Woman, Foreign Friends, Bertolt Breast, Screens, and XY.
Free copy of BoW Dance party CD with entry!
I've been having more fun than usual mastering the newest volume of Ball of Wax Audio Quarterly (Vol. 28, Spring 2012). That's because it's the first-ever DANCE PARTY! installment of Ball of Wax, devoted entirely to drivin', bumpin', booty-shakin', electronically-infused sounds. My goal is for it to be the soundtrack to Seattle's summer. (Or at least the people in Seattle who are rad enough to know about BoW. Yep,that's you.)
One thing I love about putting together themed volumes is the mix I get of artists I might never have heard from if they hadn't realized I was looking for pieces from the likes of them (e.g. OC Notes, Strong Like Woman, Foreign Friends, XY, Screens) and old friends trying new and weird things, often in response to my call (e.g. Pufferfish, Jack Shriner's Bertolt Breast [the best new band name I've heard in a while], Josh Morrison's Poor Neighbors and Robb Benson's Everything Points Up). It's been an absolutely pleasure listening to the submissions and was quite the challenge to winnow it down to the 20 tracks that fill this CD, pushing the 80 minute mark.
The show itself should be a non-stop party, with upbeat sets from a wide range of artists. Maybe some DJing between sets? Sure, why not! The audience will leave, not only sweaty and with ears ringing, but with their very own copies of Ball of Wax 28 to take home and bump throughout the summer – and forever!
See you at the Dance Party!