So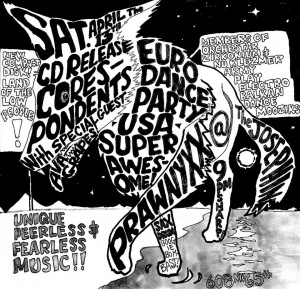 far this year has been a slow one for me, musically speaking; I haven't really heard much that's grabbed me and gotten me excited. Something tells me that's all about to change, though, as two of my favorite groups of (mostly) instrumental noisemakers are poised to release new records – and I'd be shocked if they weren't among the best of the year.
Corespondents got so into planning the release show for Land of the Low People that they couldn't keep it all contained to one night. Next weekend, on April 12th and 13th, The Josephine will play host to a cavalcade of musical madness hosted by Sospunwespunwest, all in celebration of this anticipated new release.
Corespondents will play each night, of course, but the similarities end there. Night one (Friday, April 12th) features Diminished Men, Ben Von Wildenhaus (of Federation X and Prom Queen), and Girlz Nite Out – billed as "acapellas performed by Mindie Lind, Annie Ford, and Katie Weller." For night two (Saturday, April 13th), Corespondents will play "avec horns" (that's French for "with horns") and special guest Ava Grapes. Also performing will be crazy sax/drums duo Prawnyxx and something called EURODANCEPARTYUSASUPERCOOL, featuring members of The Lonely Coast, Orkestar Zirkonium, and Nu Klezmer Army. Yeah, Corespondents is about to school the rest of us on how you do a CD release.
If all that didn't get you excited enough, check out a few tracks from the new album right here:
[bandcamp album=3544834789 bgcol=FFFFFF linkcol=4285BB size=grande]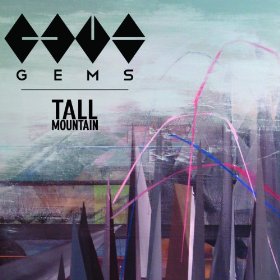 If you've recovered by the following Friday, April 19th, you should head over to the Sunset to catch Gems' release show for their long-awaited debut LP, Tall Mountain. This will be a somewhat more traditional record release show (three bands playing at a rock club), but is bound to be a great night of music at one of our finer venues. Gold Wolf Galaxy and Vox Mod round out the bill on that one. Ball of Wax regulars have gotten a couple of teasers from Tall Mountain on recent volumes, so you know you're in for a good time.
[bandcamp track=2749341041 bgcol=FFFFFF linkcol=4285BB size=grande]
[bandcamp track=3378520742 bgcol=FFFFFF linkcol=4285BB size=grande]