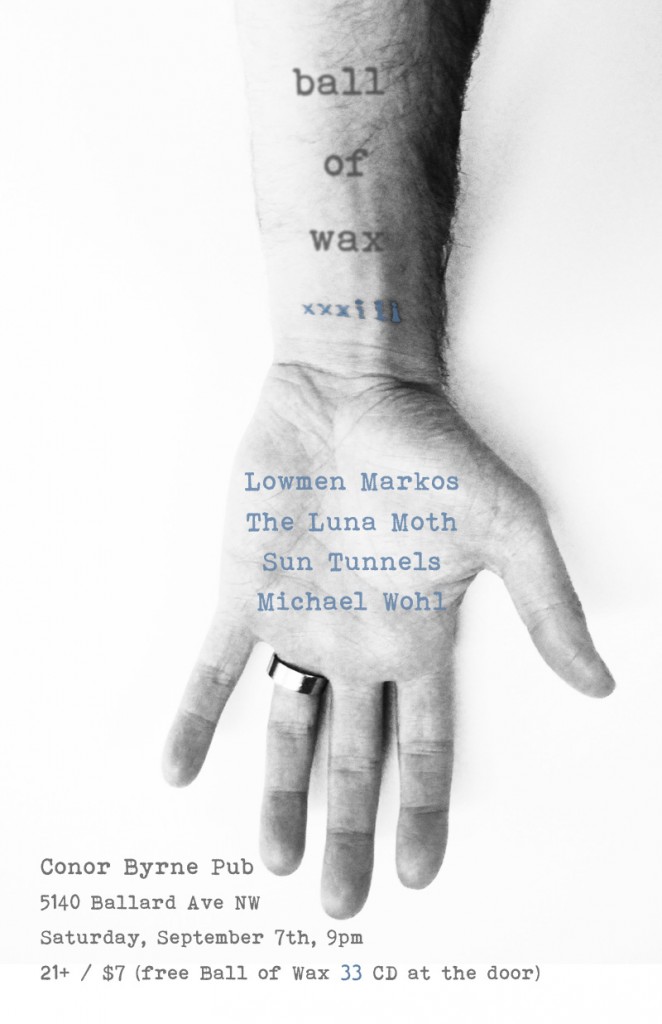 Ball of Wax Volume 33 Release Show
The Luna Moth | Lowmen Markos
Sun Tunnels | Michael Wohl
Saturday, September 7th, 9pm
Conor Byrne Pub
21+ / $7 (includes a free copy of Ball of Wax 33 CD)
Ball of Wax 33, which kicks off year 9 (3 x 3) of the Ball of Wax Audio Quarterly endeavor, is an interesting beast – partially themed (the number 33 finds its way into several tunes), partially unthemed, a little more rockin' right out the gate than usual, fairly heavy on out-of-towners but still bringing plenty of fine local music – but ultimately its 18 (3 x 3 + 3 x 3) tracks comprise a delightful collection of new music that I'm very proud to have the Ball of Wax name on.
And I'm proud to have this particular group of artists representing BoW 33 at the release show. The night begins with two solo sets – one from acoustic guitar master Michael Wohl and one from songwriting genius Louis O'Callaghan, aka Sun Tunnels – and concludes with two variations on instrumental rock – the stripped-down drone of The Luna Moth (which, full disclosure, I play bass in) and the sprawling, dynamic soundscapes provided by Lowmen Markos. By the end of the night hearts will be pounding, ears will be aching, and everyone will go home with a hot-off-the-presses copy of Ball of Wax 33 to remember it all by.
All of which is to say: Come out to Conor Byrne on Saturday, September 7th! You'll be glad you did.