[Ball of Wax 40, as we've mentioned, is a little different. Given the unique nature of each of the bands and songs on this collection, we decided to eschew our usual track-review format for the blog in favor of letting each of the bands speak for themselves about the songs they wrote and recorded in a day. Dirty Face (Brent Antal, Robert Deeble, Seth Howard, and Peter Verdoes) was assigned the year of 2009. Seth has shared some thoughts on the process. The reunited Dirty Face will perform this song at the first Ball of Wax 40 release show on June 20th!]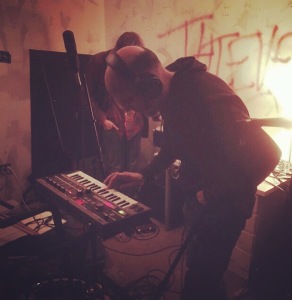 Our journey back to 2009 took us to Jette, Belgium, where on September 24th two unmasked thieves stole René Magritte's painting "Olympia" at gunpoint from the invitation-only museum in the painter's former home. The painting depicts Magritte's wife Georgette nude on the beach contemplating a seashell.
As Robert described to me while I was attempting to get us less lost on the way to Peter's place, after failing to find a buyer the thieves finally gave up and returned the painting in early 2012. The rumored involvement of a notorious Belgian gangster named Dirty Face Zanoni provided some further lyrical fodder and a band name.
I remember our first musical attempts being more spacey, but following some coffee and the first of two Central Market buffet trips the song assumed a more traditional pop structure. We cut basic tracks live, with Brent and Robert on bass and drums and me on acoustic guitar. Peter handled the recording and kept everything flowing.
Then there were lyrics to write. Fortunately Brent and Robert worked well together to stitch the ideas we wrote and lifted into a narrative. In the spirit of theft, the chorus comes from Magritte himself ("Art evokes the mystery without which the world would not exist.").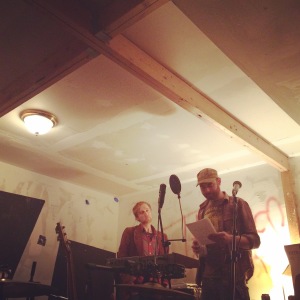 Once Brent's lead vocals were down it was off to Central Market again for the rest of us while Peter added some brilliant electric guitar texture. After adding little tambourine and keyboard I joined the others in some old fashioned crowd-around-the-mic backing vocals which document our switch from coffee to beer. With everything tracked Peter bid us farewell and worked into the night on the final mix.
Thanks to Ball of Wax for 10 years of taking us out of our comfort zones as musicians and listeners.