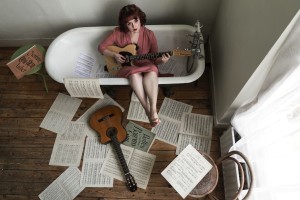 Ebullient praise. I am able to contribute less and less frequently to Levi Fuller's amazing project due to life, rent, etc; however, there are moments when you discover a great band or record, and you realize that you can at least provide a spark of recognition. I now have proof that at least one band we featured appreciated the write-up.
About a year ago, I wrote about a fascinating band in this blog. Now, almost a year later, Storm the Palace is leaving the UK to tour the US. They're bringing with them a new EP, and they're traveling with Ball of Wax's Jon Rooney and his band Virgin of the Birds.
To recap, Storm the Palace combines wistfulness with confidence, references to classical music in the kind of intelligent, polished pop that feels cosmopolitan. Music you could listen to at a cocktail party or jammed onto the 28 in early morning commute traffic.
Following the norms of the day, I got in touch with singer and lyricist Sophie Dodds by email to ask her about the tour and their new EP.
Ball of Wax: First things first. Did I get anything wrong in my previous write up?
Sophie Dodds: Lovely piece! The only thing to note is that it gave the impression we're based in Edinburgh and we're not exactly. We record and gig there, 3/5 of us are from there, but only 1 of us (Reuben) still lives there. I feel the need to mention this as London, for all the trashing it gets, is still a very important part of who we are.
BoW: Congratulations on your new record, La Lido / Cadillacs and Carousels. I would really like to steal that title immediately. But I think I might make it about a confusing winter I spent in France. Is there a change in style from your previous release, In Ruins?
SD: Haha. Well C&C was about a confusing winter I spent between Brighton and London. I'd love to hear the French version. I wouldn't say there'd been a conscious change in style (both these songs were actually written long before any of the tracks on In Ruins) but I think it demonstrates a coming together of our sound. They're the first tracks we've recorded with all of the current line-up.
BoW: I've enjoyed In Ruins, it's an immediate, emotive recording that also has the density to hold up through repeated listenings. However, I read in an interview that you had a song about contemplating death in a swimming pool. Help me with that.
SD: Thank you! The swimming pool thing is actually in "La Lido," so that'll be why…
["La Lido" was made available a day after this interview. Swimming pool and death is definitely in there.]
BoW: There's an evocation of time and place in your music. It is not 1980s Racine, Wisconsin. (I'm assuming you know of Racine, Wisconsin.) Is it the time and place of your childhood? Materially? Or is it a construct?
SD: Ah yes, good old Racine. Thank you, YES, it's always about time and place. Materially, spiritually. It's not a construct, It's always very real. Most of my songs are about being in London in my 20s I guess. Feeling miserable, looking for love, not being sure of who I am etc. etc., all against the backdrop of this vast, frustrating, awe-inspiring, lonely and labyrinthine city, with occasional excursions to Edinburgh, the South Coast, Lisbon, and the changes in mentality they induce.
Now I'm 30, the next batch of songs will be about property prices in the above places.
BoW: If you could buy a postcard when you get to Seattle, what do you think would be on it? What would you write and to whom?
SD: I know embarrassingly little about Seattle. In my mind's eye it's a city of people who all look like Jon Rooney, Kurt Cobain, and the cast of Frasier. If I can find a Frasier postcard I'll definitely buy that and send it to my parents and tell them that Eddie the dog came to one of our shows. This would validate my entire childhood.
More seriously, I love wandering around cities I've never been to before just absorbing the atmosphere. You can never predict what that will be like, but I've got a feeling Seattle will be particularly ripe for my kind of psycho-geographic meandering.
BoW: You've got Cadillacs in the title of your new release. What other aspects of American culture capture your interest? Is there a piece of your culture that you feel maybe American pop artists should focus on?
SD: The image of the Cadillac actually came from a dream. I suppose I'm really fascinated by American culture of the '50s and '60s. I love the aesthetics but hate the ideology. I did my undergraduate dissertation on Abstract Expressionism and the Cold War. I was also an avid Mad Men watcher! Epic, American, '60s pop is definitely a strong influence on the music as well.
"Your culture" being the culture of the UK? Errrr… maybe it would be nice if all American pop artists released a song about how great Jeremy Corbyn is? Yeah, that would be great. If Beyonce got on board that would be a real boost for the campaign.
BoW: Your father was a baroque musician? What's the first piece of music you remember? What's the first piece of music you remember your father playing?
SD: He still is! He plays the oboe. I remember my dad playing the duck from Peter and the Wolf when I was very small. In my head the concepts of 'oboe', 'duck,' and 'dad' are still entirely synonymous.
The earliest music I remember is Tchaikovsky's Sleeping Beauty, followed closely by Mozart's Magic Flute. When I was five years old I used to stand in the communal stairwell (which had great natural reverb) belting out the 'Queen of the Night' aria. I'm sure the neighbours loved me.
[That extra u on neighbors is there because this was an email interview. Also, a note was included, and here it is: "NB the political views in this interview represent those held by Sophie Dodds only and not necessarily the rest of Storm the Palace."]
Storm the Palace perform in Ballard on March 12, 2016 at Conor Byrne with Virgin of the Birds and my band, The Foghorns. Their US tour with Virgin of the Birds includes stops in San Francisco, Eugene, and Portland.