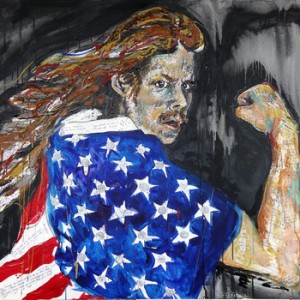 Casey Ruff – Pomp and Circumstance
(2014, self-released)
You know Casey Ruff before you know him. The honest bartender, the dude who looks the same at 2 AM as 11 AM, who will speak freely, and humorously, at any time.  And he does some badass posing—somehow balancing '80s awesome with self-knowledge.
When I first saw him hold court at Sunset Tavern three years ago, I was blown away. Ruff has presence, the ability to perform and move a crowd, that few have. It's that unique form of charisma where when the person gets up on stage, you know it's performance time, you know it means something. The other local artist with the same charisma, and this will seem strange as she performs completely different styles of music, is Shana Cleveland.
Since I saw those shows at the Sunset, I've invited him on every bill I had an opening on. Every show, he has engaged the audience.
It turns out, Casey Ruff is a student of live performance. For almost a decade he has worked at the Tractor Tavern—he's had the crow's nest view of the preponderance of mid-range country-tinged acts to hit the US.  The more I study musicians, the more I discover that what we see as talent is usually extremely hard-earned. For example, when you read Elvis biographies, you find out how insanely the man studied soul and gospel from the time he was a toddler. I don't want to echo Malcolm Gladwell, so I'll stop with saying the thousands of hours studying live performance have served as a kind of battery for Casey Ruff—when he hits the stage, it discharges. It is electric. Continue reading →