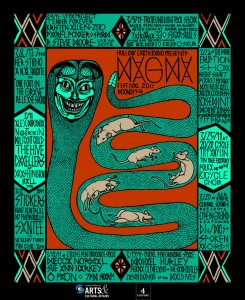 Hollow Earth Radio is a local institution which I am both thrilled at the existence of and honored to be a very small part of (I DJ a two-hour show every other Sunday and help out here and there with other things). It is a non-profit, free-form, DIY, online radio station. That description, while fairly sterile and neutral, still manages to encompass a whole raft of things that I love and that I think are vital to this city and to culture in general. So yay Hollow Earth!
Every March, Hollow Earth takes over the city with a series of shows that fall under the umbrella of Magma Festival, whose two-pronged mission is to raise funds to support the station and to expose audiences to tons of great musical performances they probably wouldn't get any other way. The lineup for this year's festival has been announced, and it's a doozy!
Some highlights: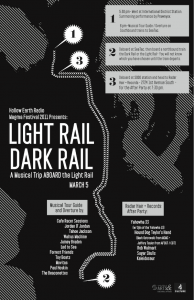 On Saturday, March 5th, there will be a free show on a Light Rail train, starting at the International District station. Many musicians will play, and they will all be great, but the important thing here is it's a show on a train. The journey will begin at the International District station. Musicians and audience will board a train and ride all the way down to SeaTac with music and interpretation from Jordan O'Jordan and the Racer Sessions gang. At the end of the line they will split up onto two trains for yet more excitement from Tahoe Jackson, The Toy Boats, Jamey Braden of Wet Paint,  Led to Sea, Forrest Friends, Walrus Machine, Paul Hoskin, The Beaconettes, Movitas, and (I think) more. Again, this whole thing is free (aside from train fare) and is guaranteed to be the coolest thing you've ever taken part in.  The train will drop you off for the after show at Radar Hair and Records, which should be its own magnificent experience.
Two shows at the Chapel Performance Space, March 18th and 19th. The Chapel is an absolutely perfect place to listen to music, and I'm really excited that Hollow Earth snagged a couple dates there for this year's Magma Festival. I must admit to being somewhat ignorant of the acts playing on March 18th (though I know enough to know that I really should be more familiar with K Records legends Mecca Normal – I'll remedy that soon). The March 19th show will be a great way to experience Michael Hurley and Seattle treasures Jason Dodson and Shana Cleveland in a live setting where you can actually listen to them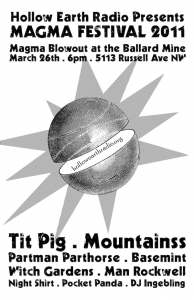 Magma Blowout show March 26th at the Mine! The final show of Magma Festival is always a loud, sweaty, crowded good time. The Mine is a no-frills underground (literally) space in Ballard that provides the perfect venue for a celebration of DIY culture. Current Ball of Wax band Man Rockwell is on the bill, along with a bunch of other bands, mostly of the loud and heavy persuasion. Bring your earplugs to this one.
Here's the full schedule of events. A full festival pass is available for just $60 at Wall of Sound Records, 20/20 Cycle, or Hollow Earth Radio.
March 4: The Vera Project | 8pm | 305 Harrison Street in Seattle Center
Tender Forever
Spurm
R. Stevie Moore (via the Internet)
Kristin Allen-Zito
Pwrfl Power
$9 with club card / $10 without
March 5: Traveling Light Rail Show | Meet @ 5:30pm at International District Light Rail Station
Racer Sessions – Tahoe Jackson – Toy Boats – Jordan O'Jordan – Jamey Braden –
Forrest Friends – Walrus Machine – Paul Hoskin – The Beaconettes – Movitas – Led to Sea
Free music, pay transit fare before boarding
Aftershow @ Radar Hair & Records | 8pm | 2724 1st Ave. S. (SODO)
Ya Ho Wa 33
Hound Dog Taylor's Hand
Rob Walmart
Sugar Skulls
Kaleidosaur
$8-$20 sliding scale
March 6: NW Tribute to "One Foot In The Grave" | Hollow Earth Radio Studio | 7pm |
2018 E Union St (Central District)
Pica Beats – Cock & Swan – 1985 – Webelos – Levi Fuller –
ST Rainbow – Brad Dunn – Urban Outfitters plus more!
$5
March 11: Washington Hall | 8pm | 153 14th Avenue (Central District)
The Hive Dwellers
NighTraiN
Militant Child
Alex Miranda
$9
March 12: Healthy Times Fun Club | 9pm | (Capitol Hill)
Broken Water
Stickers
Kunt Kuntroll
Santee
March 18: The Chapel Performance Space | 7pm Sharp | 4649 Sunnyside Ave. N. 4th floor (Wallingford)
Mecca Normal
Ô Paon
Sue Ann Harkey
$10-$20 sliding scale
March 19: The Chapel Performance Space | 7pm Sharp | 4649 Sunnyside Ave. N. 4th floor (Wallingford)
Michael Hurley
Jason Dodson (of the Maldives)
Shana Cleveland & The Sand Castles
$10-$20 Sliding Scale
March 20: CENTRAL SOUNDS Radio Show Presents | Hollow Earth Radio Studio | 8pm | 2018 E Union St (Central District)
DJ/MC/Spoken Word Open Grind
with Special Guests
$5
March 25: 20/20 Cycle | 8pm | 2020 E Union St (Central District)
Tin Tree Factory
Polka Dot Dot Dot
Bicycle Choir
Tiffany Lin
$8

March 26: The Mine | 6pm | 5113 Russell Ave NW (Ballard)
Tit Pig – Witch Gardens – Partman Parthorse – Mountainss – Night Shirt – Man Rockwell – Pocket Panda – DJ Ingebling
Sliding Scale $10-$20