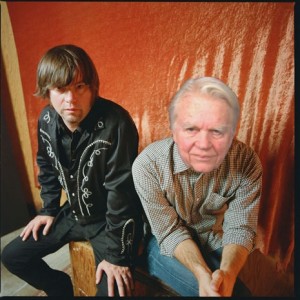 What's the deal with all this "rootsy Americana?" The only fad more popular than starting a synthy dance band is starting a "country" or "folk" or "southern rock/hillbilly/country/folk" band. And the only thing it makes me want to do more than retch is hurl! Particularly rock bands turning "country" — could there be a bigger cliché at this point? It was "ironic" when the Supersuckers did it a million years ago but now it's just sad.
With all due respect to Ms. Maxand, perhaps ahab stays in England because we already have the Maldives, Blitzen Trapper, Fleet Foxes, Sera Cahoone, Joshua Morrison, the Moondoggies, Ravenna Woods, the Tallboys, Ghosts I've Met, Whalebones, David Bavas, Pufferfish, the Dexter Street Stompers, Brent Amaker and the Rodeo, the Foghorns, Mostly Dimes, Amateur Radio Operator, the Legendary Oaks, the Cave Singers, Jesse Sykes, Neko Case, Sunday Evening Whiskey Club, Mississippi Painful, Jeremy Burk, the Contraband Country Band, Kaylee Cole, Shanandoah Davis, etc. etc. etc!!! And that's just the Northwest. And it's a partial list.
Yes, I get it, Oh Brother Where Art Thou was a good fun movie, and that George Clooney song was really affecting. But how does that translate into growing a beard, renouncing your soap, and pretending that it's 1975 and you're a Doobie Brother?
Sure, being in bands is all about affectation. But when everyone adopts the same one, that's the signal that it's time to stop. Like those really big glasses all the girls are wearing. Stop that! This ground is so well-worn and re-trod that it's turned to mud. The music scene's now stuck in it. Stuck in rootsy mud. Do not turn that into a song!
And affectation is what it is. I believe the Head and the Heart when they say they're "singing hallelujah for the first time," because I don't buy that they grew up Southern Baptist in Alabama. Yes, I believe that you in fact never sang hallelujah before. You're from Ballard, people! Put some damn shoes on.
So it's time to branch out, geniuses! Robin Pecknold, how about finishing that death metal album? Jason Dodson, electroclash is calling your name! Even Wilco stopped playing that country stuff. Let's invent that next thing, and take that next step, and put away the banjo already.