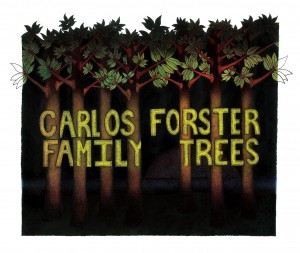 Carlos Forster – Family Trees
(2011, HUSH Records)
Carlos Forster once led a fantastic, woefully unheralded band called For Stars, about which I've written wistfully elsewhere. It's been 7 years since the release of For Stars' swan song, It Falls Apart, and Forster's debut solo effort, Family Trees – a period during which Forster largly disappeared from the music scene and apparently became a psychotherapist. Not surprisingly, Family Trees touches on many of the same themes of melancholy, loss, and aging that fueled For Stars at their most heartbreaking and compelling. Opener "I Walk I Talk" is a curious quasi-bossa nova tune.  Simultaneously breezy and brooding, "I Walk I Talk" features Forster's multitracked vocals atop pronounced vibrato organ, clean jazzy guitars and a host of subtle sounds.
Carlos Forster – I Walk I Talk
The title track is an echo-laden gut-buster of a sad song, with Forster singing "I don't know what happens to all the dreams" above falsetto harmony vocals, simple piano and mildly soaring strings. "Travel Around the World" evokes morning-after, 70's-era Neil Young mid-tempo country, whereas "Campfire Songs" (sung in tandem with Forster's old friend, M. Ward) is a straightforward folk ditty complicated by a set of darkly comic lyrics like "Just believe that when you die/you better know your campfire songs" and "go to heaven in a car/all drugged up on campfire songs."  The album's highlight is the devastating, gorgeous "Slouching toward Reality" in which Forster sings longingly over fragile piano, simple acoustic guitar and brushed percussion. It's a simple, short (barely over 2 minutes) song drenched in nostalgia that captures everything Forster does well on Family Trees and did with For Stars. Family Trees is a relaxed, unassuming burner of a record steeped in sadness, maturity and the sadness of maturity. It's both smart and dreamy, informed by disappointment, loss, an appreciation for beauty and, one would assume, the rubrics of psychodynamic theory.