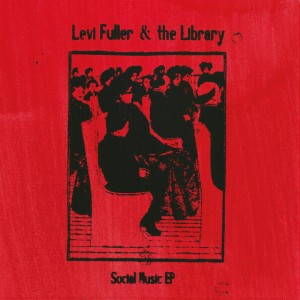 Levi Fuller & the Library – Social Music EP
(2013, self-released)
It's been four years since our fearless leader Levi Fuller's Colossal, a semi-cephalopodic collection of songs – many of which first appeared in a nascent form on Ball of Wax. Social Music, a brief collection of covers, has similar origins but a new sound and feel. Levi's take on the Foghorns' bleak, boozy "80 Proof" was featured on the cover-strewn Ball of Wax Volume 31 and his interpretation of the traditional "John the Revelator" can be found on Ball of Wax Volume 26: A Tribute to the Anthology of American Folk Music. The different sound and feel, however, can be attributed, in large part, to the more prominent presence of the Library – Christopher Williams on drums and Jonathan Wooster on bass. Levi has been joined by various backing bands over the years, but the Library sounds the most integrated and band-ish of any unit I've seen surround him.
"80 Proof" starts off Social Music with sparse vocals and acoustic guitar that are quickly rounded out by vocal harmonies and melodica. Before long the bass and drums get in on the action, transforming the Foghorns' beautiful bummer of a song into something meditative and almost soaring. The rest of the songs on the EP come from the "social music" volume of the Anthology of American Folk Music. Traditional "Dry Bones" is probably the best example of the impact of the Library – it sounds like an indie rock hoe down, with Doug Martsch-ian guitar riffs mixing with hillbilly stomps. "Jon [sic] the Revelator" similarly builds to a sinister gait with overdriven bass and stoner rock guitar excursions. It's the closest I've ever heard Levi sound to Blue Cheer and I'm totally on board. "Since I Laid My Burden Down" is more subdued and nuanced, with banjo, shaker and soft backing vocals. Bass, drums and fuzzy guitar make an appearance toward the end, but it's more of a slow burn than a rave up.
Saturday night's show at the Conor Byrne doesn't get much Ball of Waxier – the venerable Foghorns join Levi and the Library as they welcome Social Music into the musical world. Locals Yucca Mountain open the night, which promises to be packed with great music and all sorts of Ball of Waxers from around the Puget Sound region. Come join us.