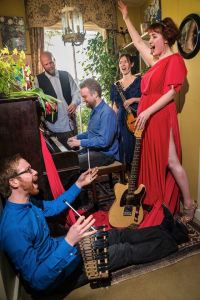 I'm still reeling from the experience of watching 40 random musicians from Seattle come together in draw-from-a-hat collections to become bands and produce music. Levi Fuller demonstrated, in 24 hours, that the only thing keeping Seattle from being a massive artist colony is the invitation. [Yes, this is how we spent our weekend. Stay tuned for Ball of Wax 40 later this spring to hear the results. -ed]
The model I hope we take after is Edinburgh, home of The Fringe Festival, and home to the most collaborative musicians I've met. Our own Jon Rooney has become, I think, an honorary member of the Edinburgh set. So much so that he brings back suggested artists on each of his seemingly barnstorming tours.
This is how I came to hear Storm the Palace, a nuanced, pop-inflected five-piece (and often more, see the collaboration idea noted above). The vibe of Storm the Palace is not far from Jon's Virgin of the Birds—it is music you don't have to check our brain at the door for. The keyboard work is also vaguely reminiscent of VotB (keyboardist Reuben Taylor played on an in-studio with Virgin of the Birds during the last mini-tour).
What is so appealing about Storm the Palace, and why does it remind me so much of the Ball of Wax experiment of this week? There are clearly different personalities, a range of interests, coming together to make music that is always hinting at different directions. This is not a pop folk band, even though they've got a singer, Sophie Dodds, who could clearly have success if she chose that route.
Standout tracks on the EP I grabbed present time signatures you just don't expect to work out as smoothly as the do, and lines like, "If only like Copernicus we could rearrange ourselves another universe." There's intelligent stuff in here. Questions of mutability, relativity, presented confidently but with tact and taste.
Bands like Storm the Palace come out of places where art is encouraged among adults. I'm really hoping Seattle continues to go down that direction. Check out Storm the Palace on Soundcloud. I believe the hope is they will be in Seattle sooner than later for a visit.