[Ball of Wax 40, as we've mentioned, is a little different. Given the unique nature of each of the bands and songs on this collection, we decided to eschew our usual track-review format for the blog in favor of letting each of the bands speak for themselves about the songs they wrote and recorded in a day. Lahar – Kirsten Eklund, Colin Isler, Mindie Lind, and Mark Schlipper – were assigned the tumultous year of 2013. Colin shares some thoughts on the process below.]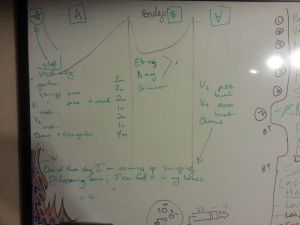 la·har
ˈlähär/
noun
GEOLOGY
1. a destructive mudflow on the slopes of a volcano.
2013 was for the human species, like so many years before it, a struggle against violent forces of this Earth and beyond that seek to destroy it. Earthquakes, volcanoes, storms and meteor strikes rattled our world, but people always find some way of getting back on their feet and carrying on.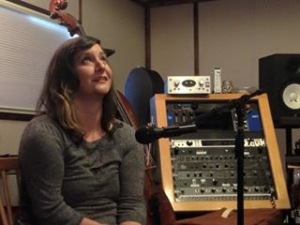 None of the members of what became Lahar had ever met or played music together. We each had a vague idea of each other's musical activities, but that was all. Despite this, the sound that we would aim for on this track started to take shape before we even left Hollow Earth Radio on the morning of April 4th. (As a side note I have to say that I think it truly says something about Levi that he can wrangle up 40 willing musicians at 10am on a Saturday, it was awesome.) After only a couple of minutes of talking about classical strings, vocal harmonies, atmospheric guitars and songs that you feel as much as you hear, we agreed that texture would be our focus.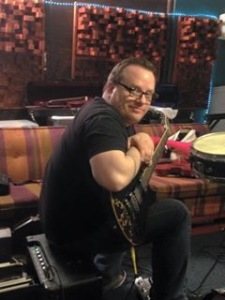 From the Central District we headed north to my small backyard studio in Greenwood to load in and start experimenting with sounds. Kirsten and I hit the strings first, with me on cello and her on viola. Mindie went straight for the Wurlitzer piano and Mark set up his electric guitar and a sweet children's drum kit that he has revitalized with new hardware and drum heads.
Meanwhile, we still needed a tie-in to the year we had drawn. It wasn't long before we gravitated to the disastrous shit that had occurred throughout that year. This gave us a tone for the song plus our band name (thanks to Mark). The lyrics Mindie brought to the song at this point fit perfectly into the direction we going, and Mark's guitar part provided a great and foreboding foundation for the two string parts and the humming to dance around.
A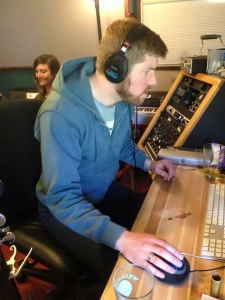 fter a much-needed Pagliacci break, we moved into tracking mode. Tracking was mostly separate, since we were in such a small space and all of us performed several different parts. As each of our parts wrapped, we tapped out one by one until I was left to tinker with the mix far into the morning hours. At the end of it all we are very excited to have been a part of such a wonderful Ball of Wax experience! We're definitely leaving the door open to future possible Lahar collaborations.
Thanks again to Levi for getting us all together!