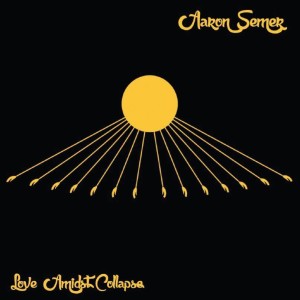 Aaron Semer – Love Amidst Collapse
(2015, Knick Knack Records)
Seattle songwriter Aaron Semer describes his debut Love Amidst Collapse as "a campfire at the end of time." The songs on Love Amidst Collapse are both familiarly rustic and oddly unnerving, a strange brew of acoustic jams and vaguely hippie-flavored visions of hellfire and damnation. Opener "Son of the Morning Star" sounds like an occult Crosby, Stills & Nash, all acoustic guitar and soaring folk melodies laced with a general air of otherworldly dread. "Marriage" opens with the line "They got married on a dare / so they still had sex with other people" and wanders off from there, wavering between parable, broken narrative and weird visions (as with the first part of Gravity's Rainbow, an octopus plays a minor part). "Bored is the King of Israel" asserts "Job would be ashamed to hear you complain that there's nothing on TV" and "Bathsheba would to tell you to make love / like it was your last day on Earth."
"Pasts Like Circles" sounds like polished alt country – something early-Son Volt-ish complete with handclaps, a brief harmonica solo and a rock-solid melody. Despite grim lyrics like "We send our kids to die / long before their time / the cause is lost, families torn / and bodies sent home to mourn," it's bouncy and catchy, probably the most immediately satisfying song on the record.
Featuring the dazzling guitar work of Michael Wohl and recorded at Colin J Nelson's Her Car studio, Love Amidst Collapse is a warm, accomplished folk record steeped in a strain of apocalyptic fever traceable in America at least back to the first Great Awakening. Semer's critiques of commercialism and other trappings of modern civilization work better as lyrical allusions than sermons, though the focus on End Times provides a useful thematic anchor for the record. Semer definitely has ideas and some well-honed musical sensibilities, making him an artist to watch around Seattle.
Love Amidst Collapse is out on Knick Knack Records and Semer is playing a release show at Conor Byrne on December 10th with Coyote and Michael Wohl.