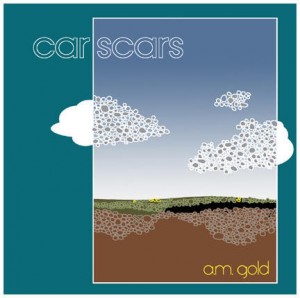 Car Scars – A.M. Gold (2005, Funkytonk Records)
[Note: this review is part of the Bad at Listening series.]
Car Scars is one of the many bands that Tim Leingang of Richmond, Washington has played in. Tim has been a central figure and community-builder in the Tri-Cities music scene since the early 90s. He started Funkytonk Records in 1997 to put out his own music and to highlight other local talent in the Richland/Kennewick/Pasco area, and from 2004-2008 he also ran the all-ages 321 Art Space in Kennewick, which was one of very few stops for bands to play between the West coast and Boise. Sadly, 321 is gone, but I had the privilege to play there twice: in April 2005 and then again a year later. I acquired this EP on one of those trips.
A.M. Gold is a "long EP" at 6 songs and less than 27 minutes. The first song, "Long Trips," betrays a strong early Built To Spill and Modest Mouse influence in the vocals and noodly, riffy guitar work. Those influences fade as a distorted Rhodes piano appears, and the song takes a turn into jazzy, post-rock territory.
The second song, "This Wishing Well," brings things back pop-wards, with melodies reminiscent of both 50's pop and Quasi. The third song, "Dream Then Reoccur," introduces a "Bennie and the Jets" style piano motif in its verses, followed by a glorious, dark, bluesy chorus, very much different from Elton John.
I'll pause mid-record to suggest this is mid-90s style indie pop, of which I am a fan, but the band definitely favors chords and structures on the complex side of the genre, building atmospheres and then taking left turns out of them. It's great. The songs are catchy as hell and expertly, intricately performed. It always takes me several listens to a record to "get it," but this EP has rewarded more than most, and has remained stuck in my head since revisiting it a couple of weeks ago.
My one complaint has to do with how some of the vocals were recorded. One of the singers (I don't know which, but he's the deeper-voiced of the two lead vocalists) just doesn't sit well in the mix. This ends up detracting somewhat from the second half of the record. There are good songs here though, and all worth a listen.
Car Scars never officially broke up, but they effectively did in 2007. Their MySpace still exists, in that way MySpaces do, in mothballs. Tim currently plays in a 7-piece band called Pets. Look for them on tour in May with the Hive Dwellers.