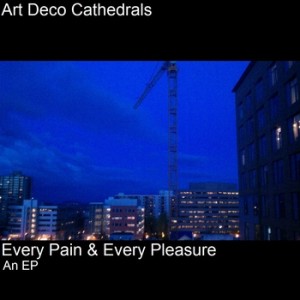 Art Deco Cathedrals – Every Pain and Every Pleasure
(2011, self-released)
Portland's Art Deco Cathedrals makes sparse, purely instrumental music with plucked strings, reverb, and the occasional drum machine. Rather than the quiet->less quiet->kinda loud->loud loud->quiet comedown arc of contemporary post-rock, Art Deco Cathedrals' music draws more from the hypnotic gossamer of 1960s-'70s minimalism and settles comfortably into a quiet gear. Every Pain & Every Pleasure seems to be the first bit of output from Christian Patterson, who records under the Art Deco Cathedrals moniker.
[wp_bandcamp_player type="track" id="1194136924″ size="grande" bg_color="#FFFFFF" link_color="#4285BB"]
A collection of 4 short peices, Every Pain & Every Pleasure is unassuming yet promising. The shamisen-like textures and repeated figures create a soft-focus dreamy effect that keeps the music from sounding cold and clinical. It comes off as a bit tentative and too-loosely improvised at times, though. With some more time spent in the proverbial woodshed and the confidence that often produces, Art Deco Cathedrals could start creating some really compelling, adventurous music.