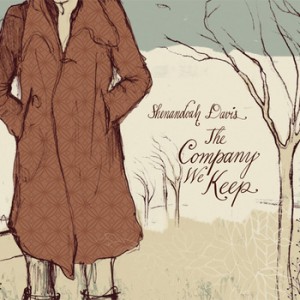 Shenandoah Davis – The Company We Keep
(2011, self-released)
Shenandoah Davis is a Ball of Wax alumnus (see volumes 16 and 18). In fact, she's the first example I point to for the beauty of the concept of such a collection. Among songwriters whose reach often exceeds their grasp (I put myself proudly in that category) you hear this brilliant, soaring voice, hitting the notes that other singers hit with strain seemingly without effort. Assuming you don't just hit repeat on her tracks, she blends with local songwriters, while kind of raising the rest of us up a little.
I'll start with the obvious: Shenandoah has a voice that stands out in Seattle, and will stand out in any town, and it is jaw-dropping set against just about any other contemporary singer. I tell friends that she sounds like Joanna Newsom without the cringe. Shenandoah is one of Seattle's most talented singers, and she's also one of our best songwriters. She's proven it with The Company We Keep, which she releases at the Fremont Abbey on July 29th.
This is a live version of the eighth track on the album. It is a favorite of mine– few voices can match so well with viola.
The songs on The Company We Keep have a structure reminiscent of '20s American jazz– a theme is presented and then changed slightly and continued. It feels more fluid than the verse chorus verse notion of songwriting, obviously, and more subtle than using blues progressions. The vocals float on top and pianos hold down the middle. It does not drill a hook into your brain. Usually, the chords don't quite resolve in the standard manner. The music doesn't dip from the same ink most of us use, let's just say.
As for the lyrics themselves: They are good. Not saccharine. There's never a bad line. I point to the tune "Pellet Gun," a come-on song, that uses the precarious opening "I've been shooting at stars with a pellet gun from the top of a wire / saw you marching off with a candle, light coming off" then continues to muse about, essentially, where things go when the lights go out. It's not dirty. And even with the pellet gun, it's not childish either.
That's something I like altogether about this album, and all I've heard from Shenandoah. She's a grown up among kids. She's the one out here with the grown up voice that can hit all the notes. She's also got a maturity in her songwriting. She's playing a more timeless music, and she does it playfully, but she does it without the pose that can be so grating among many in the indie scene. The Company We Keep is another welcome addition to a genre that stands on its own.
Shenandoah Davis releases The Company We Keep July 29th at the Fremont Abbey, 4272 Fremont Ave N. I can guarantee it will be one of the best concerts of the year.