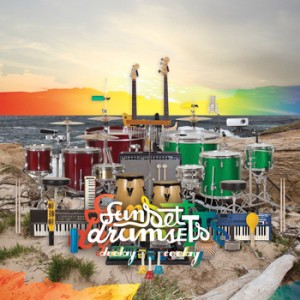 Our Portland friends Deelay Ceelay (whom you might have heard on Ball of Wax Volume 14) have at long last released a full-length album. I'm checking it out right now, and Sunset Drumsets is a fantastic summer listen, loaded with glitchy electronic noises, happy-making grooves, and exuberant live drums, without any of those pesky vocals or lyrics to snap you out of your blissful groove. I can see this album being used in lieu of the Beta Band's Three EPs in an updated (or Portlandia-based) version of High Fidelity: Throw it on, watch the heads bob, and sell a bunch of copies.
[wp_bandcamp_player type="track" id="1031330500″ size="grande" bg_color="#FFFFFF" link_color="#4285BB"]
Get your copy over at Bandcamp for a mere $5 (you can still get their first EP, Thank You, for free). Or start with a free download of the song "Feather Lightning" from the band.