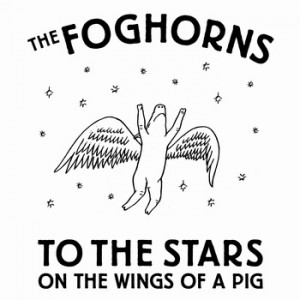 I am a bad friend/colleague/listener. I've had access to (our own Bart Cameron's) The Foghorns' excellent new album To the Stars on the Wings of a Pig for a few weeks now, and I've listened to it a handful of times and loved it, but I have to admit I really haven't given it the kind of close listening that would prepare me to write a proper album review. So instead I just have to do the lazy journalistic thing of telling you that the record is good, you can listen to it yourself here (or down below, without ever leaving this wonderful blog page), and you should go to the release show tomorrow night (Saturday, August 27th) at the Tractor Tavern with The Wages of Sin, Pufferfish (conflict of interest alert!), and Casey Ruff.
It really is a good record, though. Listen the crap out of it for the next 24 hours or so and you'll be ready to sing along tomorrow night at the Tractor. See you there!
You can listen to and purchase the digital version of To the Stars . . . via the Bandcamp thingy below. You can also pre-order the vinyl (blue vinyl! ooh!) via the superb Knick Knack Records, and receive an instant download of the whole thing.
[wp_bandcamp_player type="album" id="256991135″ size="grande" bg_color="#FFFFFF" link_color="#4285BB"]