Friends! I have some exciting news for you, but first I hope you will wish us a happy blog birthday. Yes, our first post on Blog of Wax was almost exactly one year ago! I am so proud of us, aren't you? You are invited to pat us on the back. Here's to many more years of whatever this is. OK, now on to the news: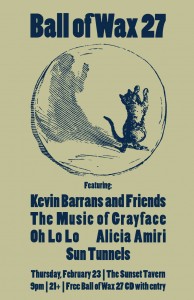 Ball of Wax Volume 27 Release Show
Thursday, February 23rd, 9:00pm
The Sunset Tavern
With musical performances from Alicia Amiri, Kevin Barrans and Friends, The Music of Grayface, Oh Lo Lo, and Sun Tunnels.
Free copy of Ball of Wax 27 CD with entry.
Volumes 25 (Songs about Books) and 26 (Tribute to the Anthology of American Folk Music) were loads of fun, but I'm excited to get back to just putting out a disc of great music without any particular theme and having a kickass show at the Sunset to celebrate it. The newest volume features brand new tracks from old friends such as Alicia Amiri, The Music of Grayface, and Sun Tunnels; new friends, including Glass Tunnels (so many tunnels!) and Kevin Barrans; and old friends in new bands, like Fungal Abyss and Oh Lo Lo. Plus much more! Join us at the Sunset on February 23rd to hear some great live music and get a free copy of the CD.
See you there!