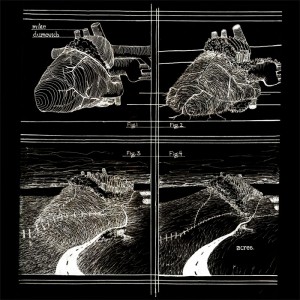 Mike Dumovich has, for several years running, been one of my favorite singers and songwriters – if not my very favorite – in Seattle. There is a strange gravity to his music – beautiful without being sappy, serious without being overly earnest, perfectly executed without being showy or precious – that pulls you in and will not let you go until it's damn well done with you. One of my biggest regrets of the first 27 volumes of Ball of Wax is that I have yet to have a Mike Dumovich song on one (though he was involved in the Harry Candy project, and lent his distinctive voice and playing to the Purple Ether Molasses track "Bones Triptych").
So I was, of course, ecstatic to hear that Mike has a new album, Acres, coming out very soon. I knew that Johnny Goss (Dandelion Gold, Cock & Swan – you can read me gushing over his production work here) was working with him on something, but I didn't know until recently that it was ready to be released to the world. The album sounds, on paper, like quite the production: In addition to the multi-talented Mr. Goss, Mike has tapped some of Seattle and Vashon's brightest musical lights for support. Acres includes contributions from Bill Frisell, Eyvind Kang, Dave Abramson, Anna-Lynne Williams, Sam Watts, Bill Patton, Jonas Haskins, Greg Dember, and many more. On the production side, in addition to the talents of Johnny Goss, Toliver Goering and engineer par excellence Mell Dettmer also contributed. If that list doesn't have your ears drooling, there's something wrong with you. (Or maybe if your ears are drooling there's something wrong with you. Whatever.)
Next Tuesday, April 3rd (which happens to be Mike's birthday, so bring a cupcake or something), Mr. Dumovich and doom-surf geniuses Diminished Men will celebrate the release of Acres with a show at The Royal Room, the new Columbia City venue run by local music legend Wayne Horvitz. Mike's live band will include many of the aforementioned local geniuses – making for a long night for Diminished Men drummer Dave Abramson, but a rewarding one for the rest of us. This is a night of music that is not to be missed. And it's an early show (word has it it will start at 7 pm sharp), so don't give me that "ah, it's a weeknight" crap. Buy your tickets right now!