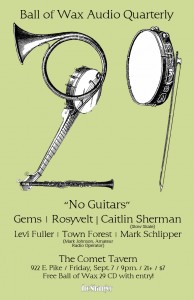 Ball of Wax Volume 29 Release Show: No Guitars
Gems; Rosyvelt; Werebearcat!; Caitlin Sherman (Slow Skate); Town Forest (Mark Johnson, Amateur Radio Operator); Mark Schlipper;  Levi Fuller
Friday, September 7th, 8pm
$7 / free Ball of Wax 29 CD with entry
The Rogue and Peasant The Comet Tavern, 922 E. Pike
[Edit: Werebearcat! had some unavoidable circumstances come up which led to their having to cancel their participation in this show. Mark Schlipper, however, has graciously volunteered to play a solo piano set.]
[Edit 2: It turns out that the Rogue & Peasant is closing and will not be able to host the Ball of Wax 29 show (or any shows). Boo! Due to some serious luck, the Comet Tavern was free that night and have stepped up, so the show will be happening as planned, just at the Comet. Yay!.]
Sorry it's been kinda quiet here on the blog lately. I've been busy listening to a bunch of excellent music without guitars (and writing and recording my own guitarless tune) in preparation for the next volume of Ball of Wax Audio Quarterly (vol. 29, Summer 2012).
In any case, I'm very excited to announce the release show for this next installment of BoW, featuring an array of keyboards, wind instruments, banjos, mandolas, percussive thingys, voices, and more – but not a single guitar (whether of the acoustic, electric, bass, or any other variety). In keeping with the theme, the release show itself will also feature no guitars whatsoever. For some people (such as the keys-and-drums juggernaut of Gems or the ivory-tinkling genius that is Caitlin Sherman) that won't be such a big deal, but others of us are going to have to craft custom sets just for this event. Rosyvelt has promised a plethora of horns, and I might even play the keys in front of an audience for the first time in my life.
It's gonna be fun, is what I'm saying. We're excited to have this Friday night show at the Rogue and Peasant in Fremont, a new venue for us and a pretty darn cool one. Doors open at 8, and as always you get a free copy of the new Ball of Wax CD at the door. See you there!