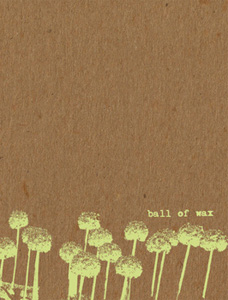 After a wonderful night of live music at Conor Byrne featuring The Foghorns, Black Swedes, Pampa, GreenhornBluehorn, and Robert Deeble  – oh, and me and my band – Ball of Wax Volume 32 is now officially out and available for purchase. I hope to have copies at Sonic Boom in Ballard soon (I should have gotten them there on Saturday, but there was some kind of insane bicycle race going on as we were loading in that totally threw me off my game), but in the meantime you can listen and purchase over on Bandcamp.
[bandcamp album=3167767741 bgcol=FFFFFF linkcol=4285BB size=grande]
I'm very proud of this collection of music and the way it flows together. Part of that is due, if I may pat myself on the back just a little bit, to my own labors as a compiler, but there were also some wonderful sonic and conceptual confluences that I couldn't have predicted or imposed. Virgin of the Birds and Jim of Seattle bring us a wonderful pair of witchy songs with "Make Me a Witch" and "Starting a Witch Hunt," and there are two very different love similes going on between Ken Cormier's delightfully New Englandish "Love like a Quahog" and midnorth's "Loved like Fall." There's more, too; but as LeVar Burton would say, don't take my word for it. Listen for yourself, and please consider purchasing to support Ball of Wax's efforts.