[Ball of Wax 40, as we've mentioned, is a little different. Given the unique nature of each of the bands and songs on this collection, we decided to eschew our usual track-review format for the blog in favor of letting each of the bands speak for themselves about the songs they wrote and recorded in a day. 2014, the most recent year (and thus the final track) was assigned to M.I.K.E. Drop: Kelly Dale, Keenan Dowers, Emory Liu, and Louis O'Callaghan.]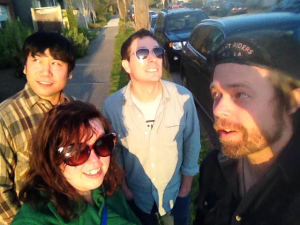 M.I.K.E. Drop met up in our Ballard brewery district studio a little after 12pm. After only 30 minutes or so the four of us settled in on a groove, tinkering away and stretching it out into pop format. Our energy seemed to jell really quickly and our "instant" band felt really natural especially after a snack break at the local minimart yelded potato chips and Mountain Dew slurpees. It all felt like we were on tour already . . .
Back in the studio we rehearsed and tracked drums guitar and bass live, then overdubbed keyboards and more guitar textures. . . . Louis wrote the lyrics and sang the melody at the very end of our session like the cherry on top of our sonic layer cake. We all had fun stepping into the unknown together and honored to be a part of the Ball of Wax family.