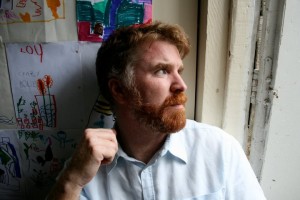 I reviewed Carlos Forster's new album, Family Trees, last year on this very blog. A couple of years ago, I wrote a short, somewhat random posthumous tribute to Forster's former band, For Stars, on Fensepost. Forster is about to set out on a quick West Coast tour (although, sadly, no Seattle shows) and graciously agreed to answer some questions about his new album, his old band, psychodynamic therapy, and the merits of Joni Mitchell's ambitious, jazz-infused work from the mid to late '70's.  Here are the dates of his upcoming tour:
January 27, 2012 Make-Out Room, San Francisco, CA
January 28, 2012 The Blue Lamp, Sacramento, CA
January 29, 2012 Duffy's Tavern, Chico, CA
February 10, 2012 Bipartisan Cafe, Portland, OR
February 11, 2012 Doug Fir Lounge, Portland, OR
February 25, 2012 Swedish American Hall, San Francisco, CA NOISE POP 2012
BoW: You recently released Family Trees after a pretty long hiatus from music (at least in a public sense). What made you want to put out music again, tour, etc?
CF: Yeah…. it was a while between For Stars' last record It Falls Apart and my first solo record. I never fully stopped making music but had a difficult time really getting things together for a record. The simple answer would be I had two kids, went back to graduate school, and ended up dealing with a lot of psychological baggage I hadn't really dealt with in my twenties. During this time I also lost my dad and brother, which left me kind of incapacitated for long periods of time.
Psychoanalytic work helped me find my music again. I am not a Jungian (in fact I often feel quite annoyed with Jungians) but Carl Jung spoke about the dangers of delving into one's own unconscious because the primitive (psychotic) parts of the mind can overwhelm a person. I know it sounds heady but I believe some underlying fears were inhibiting my creative mindset. There is a part in John Steinbeck's Red Pony where the boy sees the old Paisano riding an old horse up a mountainside heading into the Big Sur mountains. The boy had lived at the base of these mountains his entire life and had countless fantasies of what was behind the mountains. I guess I have been able to "enter the mountains again" (if that makes any sense to anyone) and have found countless images and landscapes to sing about.
BoW: Were there any songs on Family Trees that sprung from your brain and jolted you into writing and recording again? Are there songs on there that you've had for years that you were afraid would never be released and heard by anyone?
CF: You know, I think the newer songs ("I Walk I Talk," "Slouching Toward Reality," "Africa," "Family Tree," "Space") got me into it again. Half of the record is songs from my San Luis Obispo days. Matt (M. Ward) and I decided it would be fun to do some old songs he loved from that time in our lives. I enjoyed doing the old ones but really felt closer to a song like "Slouching Toward Reality" which is about loss and the pain that comes in dealing with and living in reality. Growing up is hard and if it weren't for a healthier part of mind I could of remained a fucking child my entire life.
I never really worried too much that songs would not be heard. Somewhere I knew I would do this again and if the song was good enough it would end up in the ears of someone else.
BoW: During your hiatus you've pursued a career in psychology and therapy. What drew you to that field? Did the demands of training affect your musical activity? How about the demands of practicing therapy, how do they affect your creative energies toward music?
CF: I got into psychotherapy through my own needs to figure out what was going on in my own mind. I have an extremely active mind and there came a time in my life (mid to late twenties) where my unconscious was kind of flooding me. I have some trepidation about talking about the material I was encountering due to the fact I now work analytically with patients who might feel freaked out (this is the handling of the transference) if they ever came across this interview. Patients find these kind of things on the Internet and I have to be sensitive. Psychoanalytic thinking gave me a map to trudge the area of the unconscious and helped me become more comfortable with being a person. I also feel a lot of empathy for people suffering and feel I can be helpful in helping them develop a stronger ability to organize their experiences and feel less terrified of their own minds.
Yes, the training made it harder for me to find time to play music. To become an effective therapist is a very difficult task and on top of trying to be a good father and work full-time I found little time to write and record. I missed it and with a lessening of external demands and renewed feelings of love and interest for art and music I have become quite productive again.
If anything, practicing therapy opens a person up to creativity. I have had the pleasure and good fortune of working at a clinic (which I have been working for on and off with since I graduated from Cal Poly in 1996) with severely emotionally disturbed teenagers. The intrapsychic world that inhabits the mind of a schizophrenic can be quite terrifying, though also interesting. Through my own growing ability to be empathic and have contact with parts of my mind that are more primitive I've been able to visit some seriously surreal places (with myself and the teens) that to me are kind of the bedrock of meaningful and interesting art.
BoW: Was there a moment that you now consider to be the pinnacle of For Stars' success, from either an artistic or a commercial standpoint?
CF: I guess the moment I most felt kind of like a rock star (or having commercial success) was when we were playing festivals in Europe. We played at the Benicassim Festival in front of thousands of people in Spain and got to hang out with a bunch of beautiful people and I got to feel special for about 10 minutes. That wears off though and you end up feelings like a kid that just ate too much candy. I am still amazed by how drawn I am with being "backstage" when I know, on some level, it's a sham. It's an archaic fantasy I believe has its roots in the being "mom's special kid" with an "all access pass". . . it's also rooted in the Oedipal Complex (I won't elaborate). For Stars' success was fairly quick and success came in strange pockets (like being popular in Spain) so it all seems like a bit of blur now.
Artistically I feel most proud of the Windows for Stars record. There is something unique about the record and I remember feeling very creative when we made it. I listened to it not so long ago and thought "wow . . . this is a great record!" It has an orange color to its sounds and feels glacially slow. Sometimes I have fantasies of that record getting rediscovered . . . so I could be the next Alex Chilton! I hope people can understand my humor here. I don't want to be Alex Chilton because he ended up unhappy washing dishes in a restaurant but I do enjoy people finding my records and connecting to the songs and sounds . . . and I do love Alex Chilton.
BoW: I've written elsewhere about seeing what I think was For Stars' last show. Was it? Can you expand a little bit on the end of that band? Was there mainly a sense of accomplishment at the time or disappointment? Has your view of For Stars changed any over the years?
CF: Yeah . . . that was the last show. Oh man, that was a terrible way to end. Trying to play mellow tunes to hundreds of rowdy drunk dudes waiting to see Two Gallants. The end of the band was really a bummer for me though I really couldn't tell you if it had to do with the band ending or just a certain time in my life ending. Mike Young, who is one my best friends and was an integral part of the band, got offered a scholarship to Princeton to study architecture with a deconstructivist professor named Peter Eisenman and he could not turn it down. We couldn't really be a band after this because Mike was a driving force behind the sound and arrangements.
Between the ages of 22 and 28 you think you can do whatever you want. You hit 29 or 30 and start to think, "what the fuck am I doing with my life?" I started noticing the 35 and 40 year old guys hanging out in the bar and and getting drunk at shows and would think to myself how depressing that life looked to me. It all seemed to feel meaningless and I was running the risk of becoming a fairly dysfunctional manchild unable to accept the truth that I would never become what I fantasized about.
I ended the band feeling kind of bad about things and felt very lost musically for years.
BoW: You seem to have relationships with some notable musicians from growing up and college (M.Ward, Adam Selzer and Tony Moreno of Norfolk & Western), what was your relationship with other bands or musicians in the Bay Area during For Stars' run? Were you in the same circles as folks like John Vanderslice, Beulah, Deerhoof, John Dwyer (Coachwhips, Thee Oh Sees), the Aisler Set or the American Music Club guys?
CF: I am a good friend with most of the Beulah guys. I am actually playing in Sacramento next week with two of the guys from Beulah. The first incarnation of For Stars had Bill Swan and Pat Noel from Beulah in the band, though I think Miles Kurosky (the front man from Beulah) gave them an ultimatum. Kind of pick-a-band thing and they joined the one everybody loved which was Beulah. I always felt competitive with them, though we were very different bands. I remember one night I was very drunk listening to Grandaddy's The Sophtware Slump over at the Beulah guitar player Pat Noel's house. It was 4 am in the morning and Pat and I decided I would call Miles and pretend I was a booking agent from this cheesy San Francisco club. Miles was obviously asleep and I said in a cocky voice, "Miles, sup bro this Ricky from down at the Paradiso and I was wondering if you could handle doin a gig with us." Miles said in a groggy voice, ". . . what time is it?" Anyway the next morning Pat and I were extremely hungover and we picked up Miles in Oakland (Beulah had practice). Miles got in the car and said in an angry voice, "some kook from the Paradiso called me at 4 in the morning to offer Beulah a gig." He then looked at me in a threatening way and said, "Was that you?" I said "no". . . so now if you ever find this, Miles, it was me.
Tim Mooney from the American Music Club is a good friend and helped with percussion and mixing on the Family Trees record . . . very wonderful person. I did a tour with Mark Eitzel and used to hang out a little but don't see him any more. I was a friend with Vanderslice but when I stopped releasing records a lot of folks disappeared from my life. I don't take it personally, it's just the natural course of things.
Actually I have a new record that is moving along and one of the main folks helping me with it is Bill Swan who played in Beulah. Tim Mooney also plays the drums on part of it.
BoW: Was there an album or song that was particularly important to you when you were 15 years old? How about 25? 35?
At 15 I started listening to punk rock music. My favorite bands at the time were Black Flag and the Damned . . . stuff like this. I also really started worshiping Joni Mitchell but kept that one a secret. My older brother had Clouds and I first liked "Both Sides Now." By the end of high school it was all about Sonic Youth whom I saw on the Goo tour, Dinosaur Jr. whom I saw on the Green Mind tour, and all the big indie bands of that time.
At 25 I was mostly listening to bands like the Mountain Goats, Modern Lovers/Jonathan Richman, and Yo La Tengo (I loved the And Then Nothing Turned Itself Inside-Out record). I still listened to Joni though. Never have I really taken too long a break from her. I was really loving the couple M. Ward records that had been made and it was exciting to see how his music was evolving. Still is.
At 35 I would say I could remember listening to a lot of Brian Eno and Randy Newman. I listen to so much different stuff it is hard to say. I do really love the ambient Brian Eno records . . . especially the ones with Harold Budd. I also fall in love with songs like "The Kiss" from Judee Sill and Roberta Flack's rendition of "The First Time Ever I Saw Your Face." What did I listen to today . . . um . . . oh yeah . . . I was listening to the Hounds of Love record from Kate Bush. So good! I really like it all . . . except like Nickelback or Maroon 5.
BoW: Much of the music on Family Trees and with For Stars can be described as sad or low key or contemplative. Are there fast, raucous Carlos Forster songs somewhere? Do you listen to punk, heavy metal or aggressive music?
When I try to sing something heavy or more raucous it ends up sounding forced and awkward. I have a new record in the works and there are more upbeat tunes on it (than Family Trees) but I can't do the dude-rockin-out thing too well. I really like heavy music though don't know a whole lot about what is out there at the moment. I still listen to Ozzy (when I exercise . . . which is not a lot) but I don't even know if he is considered heavy. I like Led Zeppelin and some of Metallica's music but I wouldn't say they are on heavy rotation for me. I don't know . . . would Guided by Voices be considered heavy?
BoW: What would be your ideal relationship to music or some sort of career in music for your going forward? Would you like to continue to record and release new music at a regular clip? What about performing and touring?
CF: My ideal career in music would be to do about 20 to 30 shows a year and maybe make a little extra money. I don't have the same expectations I used to and now it's just a lot of fun doing things like this interview or having someone Facebook message me that they are finding their way into the record I made. I just did the Daytrotter thing and had a blast hanging out with Sean Moeller and the other folks (Bambi and Johnny) that run the operation. I also did a couple shows with Matt (M. Ward) in the Midwest and that was so much fun. Getting to get on stage with Mike Coykendall and Matt and performing the songs with good friends is really special and I think this is what it is about.
Yeah I want to keep making records. It was hard not doing it for a while. I mean . . . I was always doing it but it just really slowed down to the point the record I made with Matt took 8 years. I think Matt released about 4 solo records in that time (Transistor Radio, Transfiguration of Vincent, Post-War, and Hold Time) so I have a lot of catching up to do.
BoW: What is the one song you most wish you had written?
CF: This is a tough question. I have a couple. The first one that came to mind is "In Dreams" by Roy Orbison. "The Kiss" from Judee Sill. "Goodbye to Romance" by Ozzy. "Please Let me Wonder" by the Beach Boys. "More Than This" by Roxy Music. This list goes on and on. I love so many songs.
BoW: For a lot of people, Joni Mitchell's discography kind of ends with Court and Spark. Can you make a case as to why they should explore her more difficult late 70's, early 80's albums?
CF: Oh yeah . . . my favorite Joni records come after Court and Spark. Don Juan's Reckless Daughter, Hejira, and The Hissing of Summer Lawns are all beautiful records. I bought Chalk Mark in a Rainstorm when it came out and remember being upset but over the years I found some great songs on that records ("My Secret Place" with Peter Gabriel being one). Night Ride Home also had some wonderful songs. One of the reasons to listen to those 3 that came after Court and Spark was Jaco Pastorius. The bass on those records is totally phenomenal and most of the time is does not even sounds like a bass. There are times it sounds like string arrangements and it's hard to believe he was doing that all on the bass. Mingus was interesting but I don't think it stacks up well with the others.
There are other reasons like the 16 minute "Paprika Plains" on Don Juan's Reckless Daughter. It's a masterpiece! The whole Hejira record I think is right up there with Court and Spark. I could go on and on about Joni and the truth is I equally adore her early stuff. It's too bad she has this kind of Lilith Fair draw because she is way out of that ball park. That stuff is so dull and I know people will at times equate her with that. She also has this super pissy attitude now which I think is funny. Sometimes I wonder if she'll ever stop smoking.